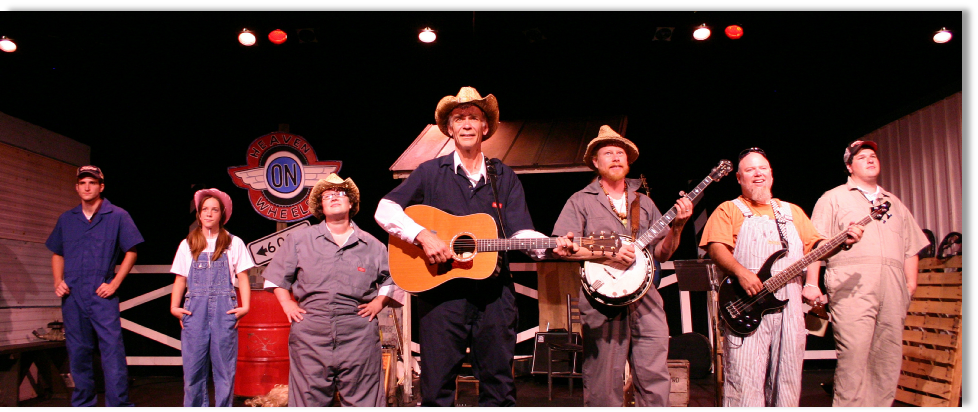 "The #1 Racin' Tribute Show in America!"
Eddy McGee, Director,
Stokes County Arts Council
"Tuneful Heaven is a place you'll want to be…
it's about the spirit that made our
nation great…"
***1/2 stars the Charlotte Observer
"Written and Performed by people who truly love & respect the history of NASCAR…" ESPN.com
"The history, comedy & music are all dead-on for accurate, funny & memorable entertainment, I'd recommend this
show to anyone."
Leonard Wood of the famous Wood Brothers #21 NASCAR team
"Anybody who enjoys great stories, racing & wonderful music should not miss this show."
Francis Flock, widow of NASCAR champion & legend Tim Flock
"Heaven on Wheels touched me deeply with a poignant humor and authenticity…I laughed & I cried as I felt transported in time."
Margaret Sue Turner Wright, daughter of NASCAR legend Curtis Turner
NOMINATED FOR BEST ORIGINAL SHOW AND
BEST THEATRE EVENT OF 2010
BY CHARLOTTE, NC'S CREATIVE LOAFING MAGAZINE.
"3 1/2 STARS" -THE CHARLOTTE OBSERVER
Heaven on Wheels, LLC
Presents
A ONCE UPON A BLUE RIDGE production of
HEAVEN ON WHEELS™
Racin' Tribute Show
The New Hit Musical Comedy about the
History of Stock Car Racing
By Tally Sessions and Peter Holland
Now Booking For National Tour 2013-2014
Welcome to Heaven on Wheels™, a down-home musical comedy about the
history of stock car racing, by Tally Sessions and Peter Holland.
Told from the point of view of rabid race fans, HOW is a tribute and send-up of everything we love about the sport. Who's the greatest driver? Who's the best builder? Who makes the best car? Who wants to fight? Some of the fascinating characters brought to life include Curtis Turner, Bill France, Louise Smith, the Wood Brothers, Tiny Lund, the Flock Brothers, and L.O. Stanley. Racing greats Richard Petty, Junior Johnson, Cale Yarborough, David Pearson, the Allison Brothers, and Dale Earnhardt are also saluted. Filled with fun songs and memorable stories, Heaven on Wheels is a musical racing scrapbook that will take you
back to a simpler place in time.


If you love racin'-- and we know you do --
you'll burn rubber to see Heaven on Wheels.
We're offering 2 different versions of our racing tribute show!
Ideal for every budget and venue
Heaven on Wheels–2 hour musical comedy.
Heaven on Wheels-1 hour 15 mins. concert version with THE BAND
http://heavenonwheelsband.wordpress.com/
Contact us for details and pricing!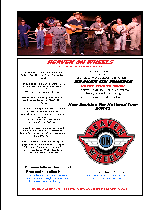 Download our Heaven on Wheels
2012-2013 Informational Flyer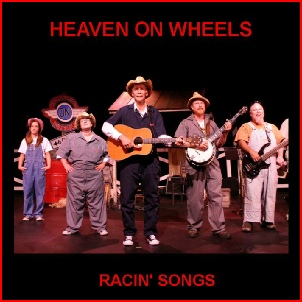 Heaven on Wheels™ and © 1998, 2010 by Sessions and Holland. All rights reserved. Heaven on Wheels, LLC
Site by Once Upon a Blue Ridge 2012


Racing images courtesy of Smyle Media
HEAVEN ON WHEELS BAND
CHECK OUT OUR NEW BLOG,
REVERBNATION SITE, AND FACEBOOK!
FREE DOWNLOADS AVAILABLE FOR A LIMITED TIME @